You and your party could do your own make-up.
(Because none of you will have anything else to think about that day, and no one will forget anything, and heaven knows you'll sleep well the night before and won't need any extra help.)

Your best friend could do it...but remember the blind date she fixed you up for?

You could hire a professional team to help you look your best and make looking good simple and fun!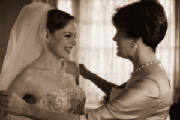 How Much Will It Cost?
We know brides are on a budget and we want you to be beautiful on your special day and forever....so we have several packages for all kinds of budgets:
1. Bridal Portrait: This package includes a preliminary consultation with the bride, and make-up the day of the shoot with the artist staying to assist with the shoot. $130.00 (allow 1 and 1/2 hours ahead of shoot to prepare)
2. Wedding Day Package for Bride and Party: This package includes preliminary consultation with the Bride and Party, skin care samples to condition skin prior to wedding day, make-up for bride and bridal party including mothers. $95.00 for every 3 people in the party (for each 3 people to be made up---we will have one artist) Example: Bride, both mothers, and 6 attendants= $285.00 and 3 artists on hand.
3. $100 Product Package: If the Bride (or any of her party) would like to replicate the look of her wedding day, honeymoon, rehearsal dinner, we will give her a $100 package to include: 3 eye shadows, eyeliner, lip liner, lipstick, gloss, and blush we used in her photo. In a beautiful custom compact.
How Do We Work?
We have a preliminary consultation to make sure we're clear about what YOU want.
We encourage a preview party for a Bridal party to teach them about how to prepare for the big day. (If you're skin is already in great shape...we just make you MORE beautiful).
We offer great gifting options and pampering opportunities for the bridal party and family.
We make our products available so you can look good everyday--and you can order from the privacy of your own home--with no pressure.
Looking for ideas for a unique Bachlorette Party? Click on this link!
Coming Soon!! Spa Party Options for your Pre-Wedding Day!!! Check Back Soon!